The SmartAVI SM-DVN-44X is a 4-Port DVI, USB-2.0 KVM Switch that provides superior multi-system management. It includes: SM-QKVM & PS5VD4A (power supply). The SM-DVN-44X managing up to 4 different computers through four monitors, USB keyboard and mouse, a set of speakers, and USB devices like printers, memory devices, scanners, etc.
SmartAVI SM-DVN-44X Features:

The Smart AVI SM-DVN-44X is the perfect solution to centralize several CPUs into a single and easily managed KVM station. SM-DVN-44X comes with USB 2.0 functionality allowing you to expand your KVM station without requiring a direct plug into the remote computer.Smart AVI 4-Port DVI-D Matrix KVM Switch provides management capabilities for up to 4 different computers through 4 separate monitors, speakers, USB devices like keyboards and mice, printers, scanners, memory devices, and more.
View up to four computers on a single monitor
Supports USB keyboard, mouse, and more USB devices
Display each computer with clean and crisp high-resolution video
Supports resolutions up to 2560 x 1600 @ 60 Hz
HDMI support using active adapters or cables
Rack Mountable in a standard 19" rack
Stereo Audio support
Front panel keys for manual port selection
Hot-key commands for quick port selection
RS-232 for remote control
SmartAVI SM-DVN-44X Applications:
Sever Collocation
Digital Signage
Education
Dealer Rooms
Airport Installations (Air Traffic Control/Passenger Information)
Control Rooms
Audio & Visual Presentations
Shopping Centers
Hotels & Resorts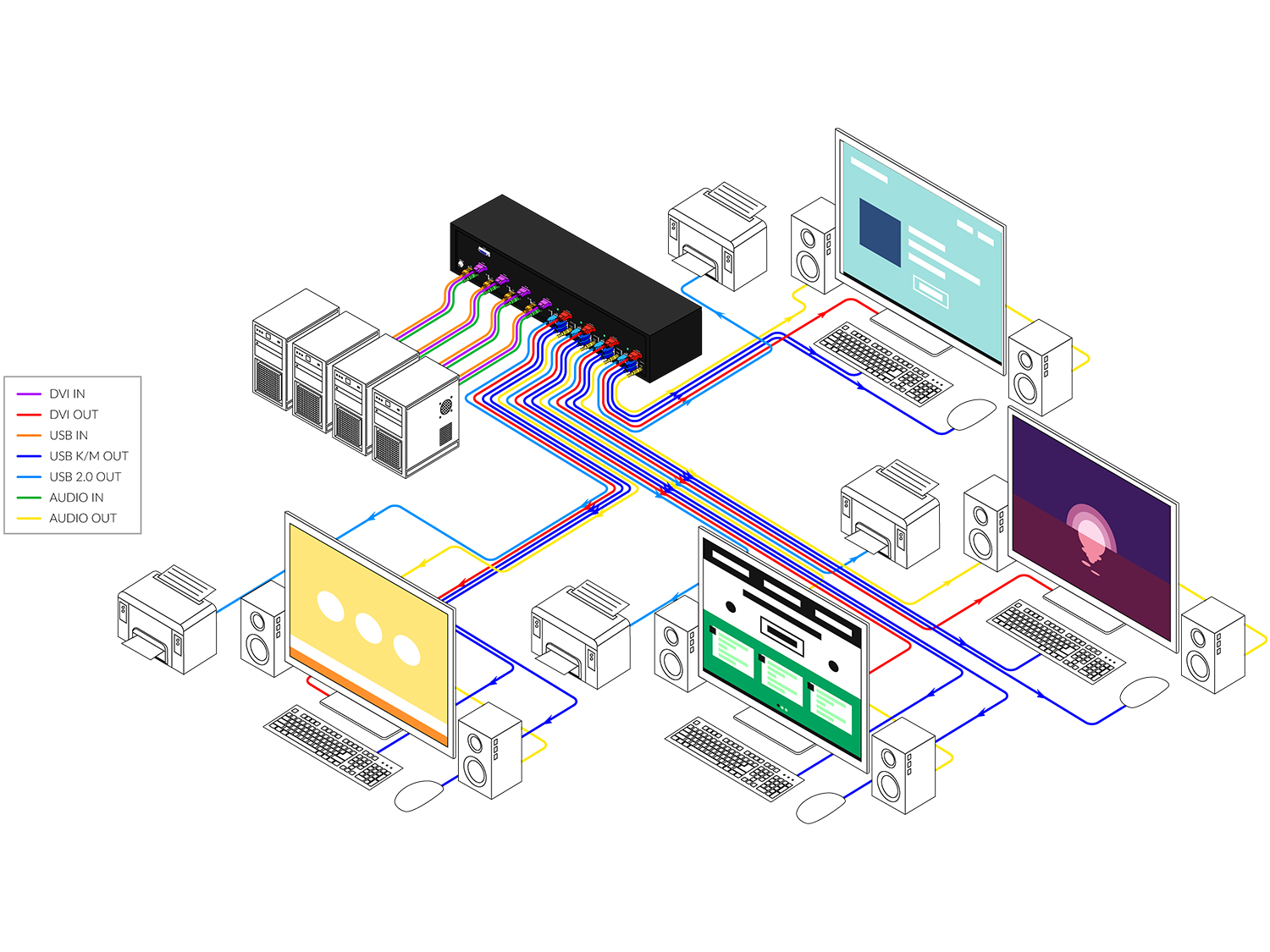 SmartAVI SM-DVN-44X Diagram

SmartAVI SSM-DVN-44X Specifications:
| | |
| --- | --- |
| Mechanical | |
| Height | 2.7 in. (6.86 cm.) |
| Width | 17.0 in. (43.18 cm.) |
| Depth | 8.69 in. (22.0 cm.) |
| Weight | 6.9 lbs. (3.12 kgs.) |
| Video | |
| Format | DVI Dual Link; DVI Single-Linke |
| Maximum Pixel Clock | 165 MHz |
| Input Interface | (16) DVI-D 29-pin |
| Output Interface | (2) DVI-D 29-pin |
| Resolution | DVI Dual-Link: 2560 x 1600; DVI Single-Link: 1920 x 1200 |
| DDC | 5 volts p-p (TTL) |
| Input Equalization | Automatic |
| Input Cable Length | Up to 20 ft. |
| Output Cable Length | Up to 20 ft. |
| Power | External 100-240 VAC/12VDC3A @36W |
| USB | |
| Signaling | USB 2.0, 1.1 and 1.0 w/ Internal Hub |
| Input Interface (TX) | (8) USB Type B |
| Output Interface (RX) | (2) USB 1.1 Type A for KVM Devices; (2) USB 2.0 Type A Transparent |
| Control | |
| Keyboard | Hot keys |
| Front Panel | Push Buttons with LED Indicators |
| RS-232 | Via Control @ 9600 bps |
| Environmental | |
| Operating Temperature | +32 to +104°F (0 to +40°C) |
| Humidity | Up to 80% (No Condensation) |
| Approvals | UL, CE, ROHS Compliant |
'; jQuery("head").append(faqQsSchemaText); }});