DPMST-4S: Ultra-Secure KVM Switching
The DPMST-4S is a 2-port, dual-head DisplayPort Secure KVM switch that converts a single DisplayPort 1.2 input signal to two separate HDMI Output connections through advanced Multi-Stream Transport technology. This allows a user to extend their display and achieve resolutions of up to 4K (3840 x 2160 @ 30 Hz) on each connected monitor without from single DP port. The DPMST-4S is a Secure DisplayPort Standard Version 1.2a compliant device. The DPMST-4S can control up to 4 computers with single DP input connection each, and allows the support of two HDMI outputs in any combination. The DPMST-4S enables users to control KVM (Keyboard, Video and Mouse) operation on up to two computers with DisplayPort monitors. It features mechanical, electrical and optical signal isolation to prevent hacking and data leakage in environments where security is paramount.
With the DPMST-4S, all data relays are controlled by inverted signals, shielding connections from outside intrusion by forcing them each to work one at a time. Each port uses its own isolated data channel and each unit features non-reprogrammable ROM to better protect the switch's functions. Better yet, the DPMST-4S offers the highest security when accessing classified and public networks over the internet through these isolated connections. By isolating connections between networks, the DPMST-4S ensures no data is leaked between secure ports and the outside world.
The DPMST-4S has marked front-panel buttons for controlling the device, so securely switching between sources is always simple. For high-grade, secure switching made easy, look no further than the DPMST-4S.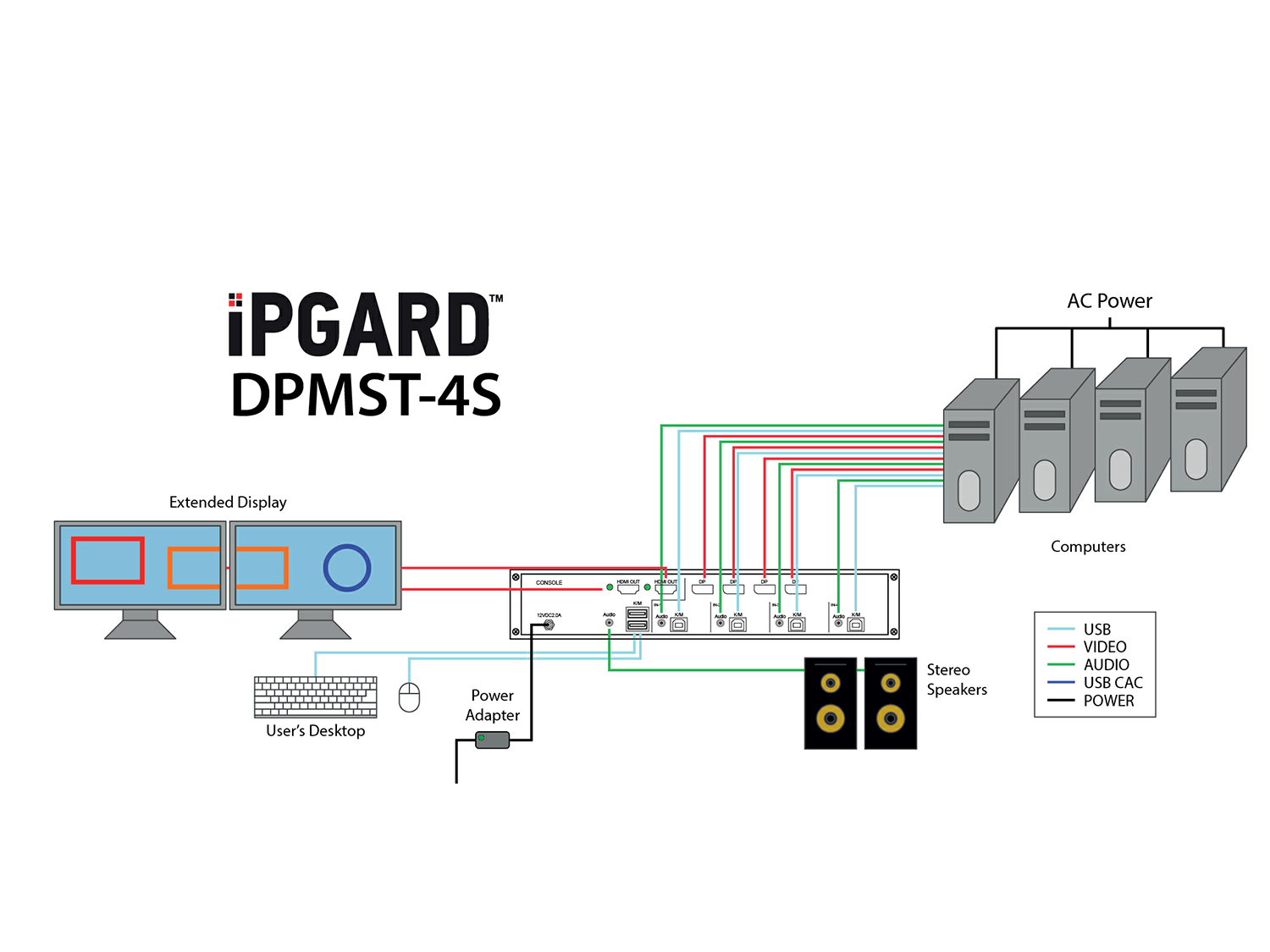 DPMST-4S Application Diagram
DPMST-4S Key Features
Supports Windows 7 and windows 10
Single-head DP to Dual-head HDMI video interface for each connected computer
Resolutions up to 4K UHD (3840 x 2160 @ 30Hz) per display
DisplayPort1.2a dual mode receiver
HDMI/DVI operation up to 320MHz
Max video input resolution 4K2K@60Hz
Multi-Stream Transport supports up to 2 streams
Supports RGB or YCbCr
Supports balanced speakers output and switching
Advanced configurable CAC port
Front panel tactile buttons with LED indicator
External power supply- Level VI efficiency
DPMST-4S Security Features
Non-reprogrammable ROM
Active Anti-tamper switches
Long-life internal Anti-tampering battery
External tamper-evident seals
Keyboard, Mouse and Video emulation
Absolute isolation - No data leakage between ports
Certified by NIAP, the latest Common Criteria (Protection Profile for Peripheral Sharing Switch Version 3.0)
DPMST-4S Package Includes
1 x 4 Port Secure KVM DP MST with Dual 4K HDMI Out
1 x PS12VDC2A power supply
1 x Quick Start Guide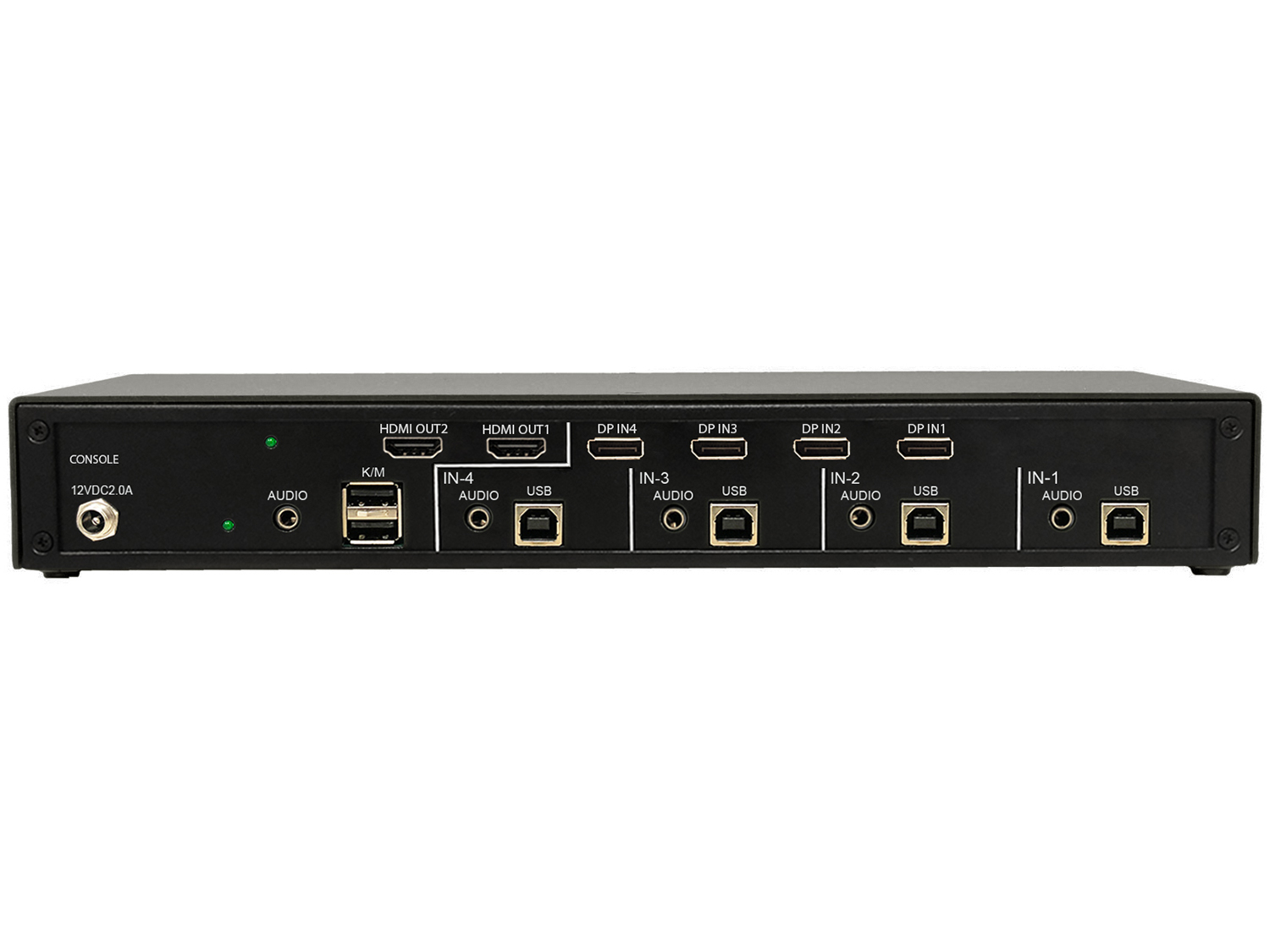 DPMST-4S Back
SmartAVI DPMST-4S Specifications
Learn More: SmartAVI DPMST-4S Brochure (PDF)
SmartAVI DPMST-4S Manual (PDF)
VIDEO
Format
DP
Input Interface
(4) DP
Output Interface
(2) HDMI
Output Resolution
Up to 4K (3840 x 2160 @ 30Hz)
DDC
5 volts p-p (TTL)
Input Equalization
Automatic
Input Cable Length
Up to 20 ft.
Output Cable Length
Up to 20 ft.
USB
Input Interface
(4) USB Type-B
Output
(2) USB 1.1 Type A for KM Devices
Emulation
USB 1.1 and USB 2.0 Compatible
CAC
Configurable USB 2.0 Port
AUDIO
Audio Input
(4) 3.5mm stereo audio
Audio Output
(1) 3.5mm stereo audio
CONTROL
Front Panel
Front panel SELECT buttons
OTHER
Power
External 100-240 VAC/12VDC2A @ 24W
Dimensions
12.57" W x 2.7" H x 6.69" D
Weight
4.2 lbs
Approvals
NIAPP PP 3.0, UL, CE, ROHS Compliant
Operating Temp.
+32 to +104°F (0 to +40°C)
Storage Temp.
-4 to 140°F (-20 to +60°C)
Humidity
Up to 80% (No Condensation)
'; jQuery("head").append(faqQsSchemaText); }});