The Aten KE9900ST Slim DisplayPort KVM over IP Extender is a compact and affordable high performance IP-based transmitter which can be paired with any KE Series* receiver for a savings solution that stays within budget. The KE Series* extenders allow access to a computer system from a remote USB console over an intranet, enabling users to locate computers in a secure and temperature controlled environment, which is isolated from users' workstation.
The KE9900ST supports DisplayPort video input from the computer while the paired KE Series receiver supports DisplayPort, DVI or HDMI monitor output, providing video resolutions up to 1920 x 1200 and flawless and lossless video compression quality with minimal latency. The extender also supports RS-232 serial commands. In addition to a DC power jack, the KE9900ST transmitter includes an extra DC terminal block for convenient installation.
The KE9900ST can be set on a desk, mounted on a wall or at the rear of a rack with its space-saving 0U rack mount design. Moreover, the KE9900ST can be used as a point-to-point/point-to-multipoint/multipoint-to-point extender, or integrated into a KVM over IP Matrix System (multipoint-to-multipoint) when combined with the KE Matrix Management Software (CCKM), providing more flexible applications in different working environments.
Whether you're configuring, monitoring, administrating, controlling or extending computer access, the KVM over IP Matrix System is made adaptable, to fit an endless variety of working environments and workstation settings, as well as to provide solutions in broadcasting, control center, multimedia, manufacturing and many other industries where matrix extending is required.
Aten KE9900ST Features
Aten KE9900ST Use Cases
Extender mode (One-to-One)
This is the simplest setup; using a single transmitter to receiver connection that extends a computer's distance from the keyboard, mouse and monitor. One-to-one setups can be directly connected by a Cat 5e/6 cable between two units - up to 100 meters (KE89xx & KE99xx models can also be optionally connected via optical fiber cables for distances up to 10 kilometers).
You can also manage point-to-point connections, set up over a LAN with no distance limitations, by assigning each device an IP address.
* Supported via the KE Matrix Management Software (CCKM)
Aten KE9900ST Package Contents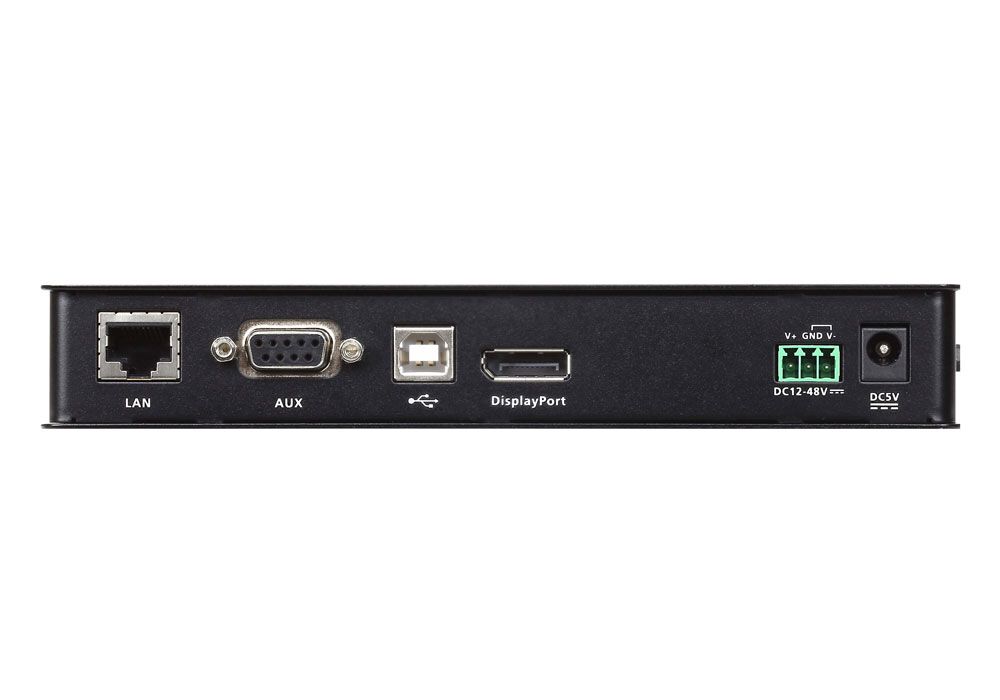 (1) KE9900ST 1080p DisplayPort Slim Transmitter
(1) 6.56ft DisplayPort Cable
(1) 6ft USB 2.0 Type-A to Type-B Cable
(1) Power Adapter
(1) Mounting Kit
(1) User Instructions
(1) 3-Year Warranty
Aten KE9900ST Resources
Aten KE9900ST Datasheet (PDF)
Aten KE9900ST Manual (PDF)
Aten KE Matrix Implementation Guide (PDF)
Aten KE9900ST Quick Start Guide (PDF)
Aten KE9900ST CAD Technical Drawing (PDF)
Aten KE9900ST Specifications
Connectors
KVM Ports
1 x USB Type B Female (White)
1 x DisplayPort Female (Black)
1 x DB-9 Female (Black)
Power
1 x DC Jack (Black)
1 x 3-Pole Terminal Block Connector (Green)
LAN Ports
1 x RJ-45 (Black)
Switches
Reset
1 x Semi-recessed Pushbutton
LEDs
10/100/1000 Mbps
1 (10: Orange / 100: Orange & Green / 1000: Green)
Power
1 (Blue)
Emulation
Keyboard / Mouse
USB
Power Consumption
DC5V:4.75W:22BTU
DC48V:6.97W:33BTU
Video Resolution
Up to 1920 x 1200 @ 60Hz
Environmental
Operating Temperature
0-50íC
Storage Temperature
-20-60íC
Humidity
0-95% RH, Non-condensing
Physical Properties
Housing
Metal
Weight
0.65 kg ( 1.43 lb )
Dimensions (L x W x H)
18.20 x 11.75 x 2.87 cm
(7.17 x 4.63 x 1.13 in.)
Note
For some of rack mount products, please note that the standard physical dimensions of WxDxH are expressed using a LxWxH format.
UPC

672792009532

EAN

0672792009532

'; jQuery("head").append(faqQsSchemaText); }});